Looking for Coach hire in Bradford for your next travel requirement?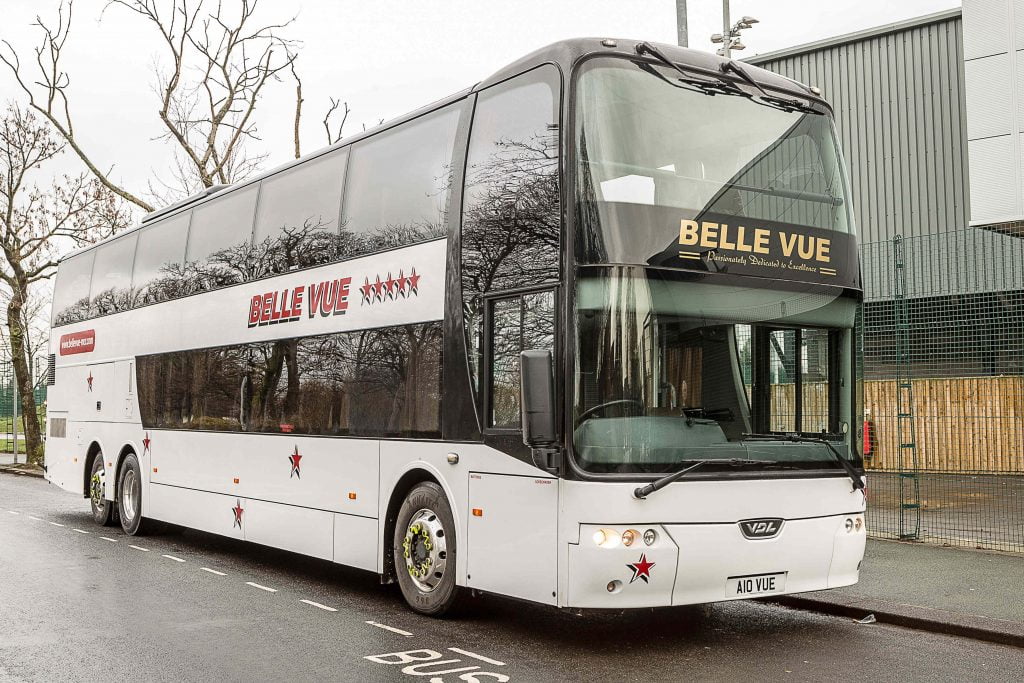 We offer a bespoke Coach Hire Management Service catering for any group travel requirements for Coach Hire in Bradford, working with our fleet of 80 vehicles and also hundreds of approved suppliers operating across the UK.
Whether you're looking for a chauffeur driven car, a minibus, midi-coach, standard coach, executive coach, luxury coach, double decker coach, accessible coach or a vintage bus or coach, we have the fleet and supplier network to handle any travel requirement from a trip around the corner to a multi vehicle event carrying thousands of passengers.
We have a range of vehicles to suit any occasion. Whether you are looking for a minibus for an airport transfer to Leeds/Bradford Airport or a midi coach hire to the Utilita Energy Stadium, we have a vehicle to suit.
Our minibus hire Bradford service caters for visits to fabulous attractions such as Bradford Industrial Museum or Bronte Parsonage Museum.  Whatever the occasion you are hiring a minibus for we have a range of minibus and midi coach hire solutions with our large and varied fleet of vehicles and transport partners.
From a trip around the corner to a trip across the country. Whether you are organizing transport for a small party or a multi vehicle event to see Bradford City in the cup final.
We offer best value, quality and reliability resulting in an unrivalled transport service. Once our clients trade with us, they stay with us. Tour our website to learn how our award winning team delivers on our passengers wants, needs and expectations, on time, every time.
Complete an enquiry for more information.
We'd love to be a part of your next travel adventure!
How We Listen to Our Clients
We also compile Aftersales Forms, which is a summary of comments and scores from all group organisers and passengers. We have a three step win process from these Aftersales Forms.
We take any positive comments back to our team which ensures we build a team that feels valued and rewarded.*
We take any constructive criticism and throw it round the management table to create a better service from feedback our clients have given us.
We can personally tailor our service to the individual tastes of each client based on their feedback.
*It is imperative for team morale that that our team feel the contribution they are making is making a difference to the company's goal
Frequently Asked Questions
Nicole Preston
We just wanted to let you know that Yvonne was absolutely brilliant
last night in difficult circumstances – access to the home, the poor
weather and rude motorists who were very impatient.
She was so lovely with all of the residents, she put them first and
nothing was too much trouble for her at all. We would definitely book
our trips with you again and would recommend your company,
especially Yvonne.
Merry Christmas to you all.
Kind regards
Nicole Preston, Financial Administrator
Bupa Care Services, Woodend Care Home, Bradgate Road,
Marcia Veiga
I would like to thank you for the exceptional service from all BelleVue
staff.
All the drivers were excellent, helped with everything I needed. I
want to mention here Kevin who was with me for two days and was
extremely professional, polite and helpful. But without disregarding
the other drivers who were also excellent.
Thank you very much to all. See you at the next job (hopefully very
soon).
Kind regards,
MARCIA VEIGA
Tour Guide and Coordinator
Eve Buzinskaite
We had a trip with you last week and I just wanted to share
this amazing feedback we have received from the customer:
'The quality of the service we received during our trip
was 10/10. I would never even consider using another
company. The coach was of the highest quality, the
drivers were super efficient and very professional.'
Thank you so much for your great service!
Have a great day everyone
Best regards,
Eve Buzinskaite