A company director has thanked members of the public who came to his aid as he lay in a puddle for over two hours waiting for an ambulance after a horrific cycling accident.
Phil Hitchen, 55, shattered his left leg when he came off his bicycle in Denton, Tameside, after a major oil spillage left the road surface extremely slippery.
He was training for a charity ride to Blackpool in July when the accident happened on Saturday, May 15.
Phil, who is managing director of Stockport-based bus and coach hire company Belle Vue Manchester, was riding with colleague Matt Turner and pal Craig McLean when he skidded off his bike on Market Street, Denton, at the junction with Hyde Road.
There had earlier been a major spillage of what is thought to have been hydraulic fluid.
Members of the public helped Matt and Craig to look after Phil as he lay in 'excruciating pain' in the road.
They included people who brought a coat, blanket, foil sheeting and a hot water bottle to keep him warm, and a woman who helped medically.
Two passing police officers also stopped to assist, with one giving Phil his hi-visibility coat.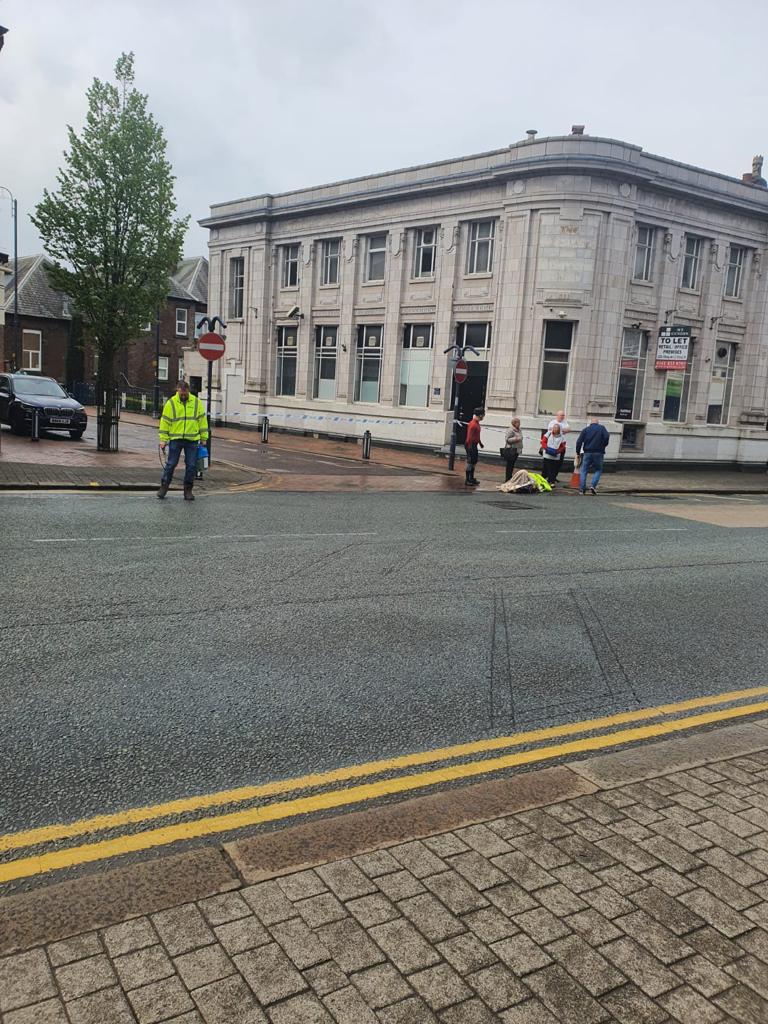 When an ambulance crew finally arrived, Phil was taken to Tameside General Hospital, where he underwent a two-hour operation to insert pins, screws and a rod to repair his shattered femur, and required a blood transfusion. He spent five nights in hospital and is now recuperating at home.
Phil's injury has meant he had to give up his ticket to see his beloved Manchester City take on Chelsea in Saturday's UEFA Champions League Final in Portugal and for the match against Everton where the Blues lifted the Premier League trophy.
Phil, a father of one who lives in Hyde, set off from home at 7.20am to meet Matt and Craig in Denton.
The trio planned to head to Macclesfield and back as part of their training regime for the July 4 ride in aid of The Christie.
"I met the boys at Crown Point and we cycled down Market Street," said Phil.
"I was doing 4mph at the most when I skidded off my bike on a road which was full of oil. You couldn't see it, but I could feel it on my skin and jacket after my fall.
"I cleaned myself down with some paper towels Craig had bought from a nearby shop. I warned the others to be extremely careful, and we set off again.
"But, 20 seconds later, my bike went again and I knew straight away that I'd broken my leg.
"It was a terrible break, I actually heard the bone crack. I was screaming from the excruciating pain and I was shaking from shock. I wasn't able to move from the road and it was rather humbling to receive help and comfort from the passers-by, the shop owners and the police officers. They were all fantastic and I'm extremely grateful to them.
"An ambulance had been called, but after an hour I spoke to the control room myself. I was told they were extremely busy and was asked what my pain threshold was like. I said four out of 10. I was by then comfortable and not in as much pain as long as I remained still.
"They had other, more urgent priorities at the time and the ambulance finally arrived two hours and 15 minutes after the accident. I wasn't angry, but was frustrated that it took so long. I would not have thought the service was so stretched.
"When it did arrive, the crew were incredible. The care and professionalism they showed was outstanding. The same is true of the staff at Tameside General, from the nurses and surgeon to the physiotherapists who helped me get back on my feet."
Phil is now back home and on crutches. Doctors have told him that, with physiotherapy, he should make a full recovery within 12 months.